Om man odlar egna grönsaker och rotfrukter så är det en förhållandevis kort säsong som man kan äta dessa färska. För att njuta av godsakerna under resten av året måste man hitta bra sätt att lagra dem. En matkällare kan vara lösningen och vissa grönsaker funkar att frysa. Ett annorlunda och intressant alternativ är att låta vissa  rotfrukter och grönsaker stå kvar i landen. Grönkålen står t.ex. kvar i mitt land och ska få göra det tills det är dags att laga till julbordets stuvade grönkål. På den amerikanska siten nedan kommer fler tips om hur man kan använda trädgårdslandet som matkällare.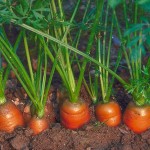 Storing Vegetables for the Winter – Keep them cozy right in the ground
The days when everyone had an underground cellar full of produce may be gone, but here's a simple technique that will give you sweeter, crisper winter vegetables than any you can buy at the grocery store. This method takes advantage of the fact that some vegetables can survive freezing temperatures and remain fresh, even when buried under a blanket of snow.
You can store carrots, beets, parsnips, turnips, celery, rutabagas, cabbages, leeks, kale, and spinach in the garden through winter by using this mulching technique.
Before hard frosts begin, hoe soil over beets, carrots, and other root crops to protect any exposed shoulders, but keep the green leaves uncovered to let the plants continue to grow and sweeten.
For the best flavor, allow cold tolerant crops to grow for as long as possible. If early hard frosts are predicted, cover plants with blankets, row covers, loose straw, or leaves; then uncover them when temperatures rise above freezing, so they can continue to grow. During cooler fall nights, these crops will accumulate higher levels of sugars, making them better tasting to us and more able to survive freezing temperatures.
A winter deepens in milder regions, cover the crops with a light mulch to keep them in good shape through much of the season. In colder northern regions, bury the plants with leaves or straw just before the ground begins to freeze. A 1-foot-deep mulch should protect the crops and keep the ground from freezing in USDA Plant Hardiness Zone 5. Use more in colder areas and less in warmer regions.
If you put the leaves into trash bags, the wind won't carry them away, and they'll be easier to move aside when you want to harvest the crops. If you've had trouble with mice or voles, set a few traps to catch any critters before they set up winter housekeeping in the mulched vegetable beds. In most years, your snugly mulched crops will remain alive and ready to use all winter long. (If you allow any unharvested carrots, beets, or cabbages to grow again in spring, they will flower and produce seed for you.)
http://www.organicgardening.com/learn-and-grow/storing-vegetables-winter